We are currently NOT advising you to use FastHosts Hosting
Please, choose from our reliable alternatives:
When looking for quality UK web hosting, the sheer volume of offers out there can make it hard to choose the right option. Fasthosts has been a regularly used platform for some time, and they have become quite a common choice for those who are looking for, as the name implies, fast hosting.
Formed in 1999, Fasthosts has served the UK to help give people high-quality services to help them achieve whatever they can. With over 1.4m domains hosted and over 800,000 mailboxes, they are a very busy hosting company that delivers all manner of different services. If you are looking for a host plan that is simple and easy to work with, then Fasthosts might just be the system that you need to make the most of said opportunities.
They are very good at tailoring offers and using smart, modern practices to keep their services running well. If you are looking for a service that is relatively easy to use, then Fasthosts is probably as good a place to start as any.
Data Centres Overview
Since they formed, the company has been steadily increasing and improving the range of solutions that they provide. They have a 'multimillion pound' data centre that they manage all of the infrastructure for the business from. They are based in Gloucester, England, and provides a very strong and secure service across the UK and Europe.
| Company: | Address: | Telephone: | Email: | Website: |
| --- | --- | --- | --- | --- |
| Fasthosts Internet Ltd | Discovery House, 154 Southgate Street, Gloucester, GL1 2EX, UK | 0808 1686 777 | sales@fasthosts.co.uk | fasthosts.co.uk |
They make use of a very powerful platform that offers a Tier-1 connection, making sure that every server is as fast and as secure as it should be. This gives you the chance to know that you are working with hosts who care about the quality of your connectivity in general. All of their platforms have an ISO 27001 certification, which is the international standard for all data centres that hit the very peak of security, consistency and safety overall. For that reason, you can trust Fasthosts to deliver on what they promise.
Check FastHosts' Web Hosting Gallery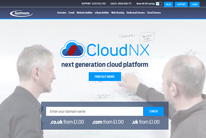 FastHosts Homepage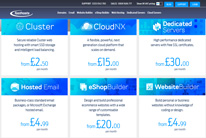 Compare Web Hosting Plans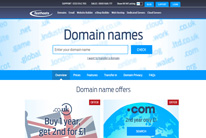 Register a Free Domain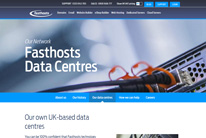 FastHosts Data Centres
What are the Benefits?
One of the main benefits of working with Fasthosts is that they give you access to a very powerful control panel. Many options like this can feel a little stunted and lacking in potential. Fasthosts, though, avoids that by giving you about as comprehensive a platform as you could ask for. Add in the fact that they are very easy to work with, and Fasthosts can very easily be the simplest option for you to deal with.
They have great support, too. Support matters and they have a 24/7 service that can help you via live chat or even phone options. This is one of the main reasons why you might choose to work with Fasthosts; they make managing and supporting your site simple.
Best of all, they make securing your site simple as well. From assistance with VPNs and firewalls to making sure you have SSL certification to help soothe buyer worries, you can find that Fasthosts gets rise of most of the issues that you might have about using their hosting platform.
What kind of Services are Offered?
For one, they provide excellent domain management. From transferring an old domain to their new platform to just using it as you need, their domain management platform is one of the most commonly used features. Easy and effective, this makes it easy for you to get the perfect business URL for your needs.
They also offer an easy to use e-mail service which delivers time and time again with what you need. If you want to make sure that you are sending e-mails that come from an official e-mail address that looks great, Fasthosts can help you set that up.
Fasthosts also have an excellent website builder. You can pick from all manner of themes and just pay a monthly theme to help maintain the website. It also has an eShop builder that you can easily put to good use to make sure you can get a service that feels easy to use and tailored to your needs and wants.
Add in the fact that their builder allows you to include everything you need on the back-end to make sure you have total control over the website, and starting from scratch with Fasthosts is an easy, effective choice.
Their builders provide you with unlimited pages to pick from if you use their Premium package, as well as secure payments, SEO and much more. If you are looking for not just a hosting platform but a full website management system you can run and manage on your own, start here.
Full access to key content such as phpMyadmin and all manner of great web hosting benefits from inboxes, custom error packages, one-click install features for simple set-up, a great back-end platform and a solid user interface for managing any kind of web, dedicated or cloud hosting that you need.
Shared Hosting Servers Pricing
Plan Name
Domains
SSD Space
Bandwidth
Panel
Price
Link
Ignite
1
10GB
Unlimited
Own
£2.50
N/A
BUY Momentum
3
20GB
Unlimited
Own
£7.00
Ultimate
100
120GB
Unlimited
Own
£15.00
Cloud Hosting Servers Pricing
Plan Name
CPU
RAM
SSD Space
BW
Price
Link
Root1
1 Core
1GB
40GB
Unlimited
£15
N/A
Root2
2 Cores
2GB
80GB
Unlimited
£30
Root3
2 Cores
4GB
120GB
Unlimited
£45
Root4
4 Cores
8GB
240GB
Unlimited
£90
Root5
8 Cores
16GB
280GB
Unlimited
£165
Root6
8 Cores
32GB
400GB
Unlimited
£270
Root7
12 Cores
48GB
400GB
Unlimited
£390
Root8
16 Cores
64GB
400GB
Unlimited
£510
Dedicated Server Hosting Pricing
Plan Name
CPU
RAM
Storage
BW
Panel
Price
Link
571
2 Cores
4GB
2x500GB
Unlimited
cPanel or Plesk 12
£30
N/A
761
4 Cores
12GB
2x1TB
Unlimited
cPanel or Plesk 12
£40
971
4 Cores Intel i5-4690
32GB
2x2TB
Unlimited
cPanel or Plesk 12
£60
1081
6 Cores Intel E5-2603 V3
48GB
6x500GB
2x120GB SSD
Unlimited
Plesk 12 or cPanel + WHM
£100
1181
8 Cores Intel E5-2630 V3
64GB
6x1TB
2x250GB SSD
Unlimited
Plesk 12 or cPanel + WHM
£180
1381
20 Cores 2x Intel E5-2650 V3
128GB
6x2TB
2x500GB SSD
Unlimited
Plesk 12 or cPanel + WHM
£250
Conclusion
Overall, Fasthosts is one of the better hosting platforms out there for UK users. If you need something that is great for beginners but also has a high ceiling for advanced scalability, few options can be better for you to start with.
FAQs
Can you send your old website to Fasthosts?
Yes, you can. You can easily transfer your domain to this platform and still enjoy all of their features and add-ons so you can easily manage the back-end of your business like never before.
How many sites can I host per package?
Using various packages, you can have as many sites as you like on the go. The only upper limit is 100 sites which, given circumstances, is likely to be pretty rare!
Does Fasthosts support WordPress?
Yes, it does indeed. You can manage everything with one-click-install of CMS like Joomla, Drupal and WordPress if you would prefer to run everything through this platform instead. Using their own control panel, you are left with total control over how to best manage your site.
Is Fasthosts secure?
Yes, very. They use 256-bit encryption and also have a GeoTrust Dyanmic True Site Seal trust-mark, meaning that you can feel very safe and simple using their platform.
Were we able to help you? Then you will be interested in these reviews too: