The Most Useful Host1Plus Review
Host1Plus
4.5/5
Shared Hosting from $3.00 p/m
DCs:

US

DE

BR

ZA

Uptime: 99.99%
Extras:


+

Free Domain


+

cPanel, DirectAdmin


+

Solid Performance


+

Extreme Scalability


+

Full Support
Host1Plus is not offering anymore a UK Data Centre! Host1Plus was established in 2008 with eight servers located in seven different countries including South Africa, Brazil, United States, United Kingdom, The Netherlands, Germany and Lithuania, hosting close to 50,000 clients.
They pride themselves on their customer care which is available 24/7 and supplied within three different support packages starting with "General Support" which provides service monitoring and performance control, on-demand service connection to the company's monitoring system and service management through the control panel. The middle option is the "1st Level Extra-Care" including LAMP setup and configuration, DirectAdmin installation and migration, management of the WHM/cPanel, OS reinstallation, basic security check and guidance amongst others, while at the top of the support package options we find the "2nd Level Extra-Care" option including network and firewall configuration, BGP setup, Squid or other caching software setup and configuration.
Get the best VPS hosting services from Host1Plus!
| Company: | Address: | Telephone: | Email: | Website: |
| --- | --- | --- | --- | --- |
| Digital Energy Technologies Ltd. | 26 York Street, London W1U 6PZ | +44.8708200222 | sales@host1plus.com | host1plus.com |
Check Host1Plus' Web Hosting Gallery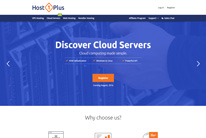 Host1Plus Homepage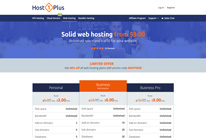 Compare Web Hosting Plans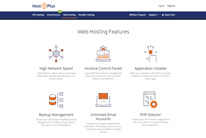 Web Hosting Features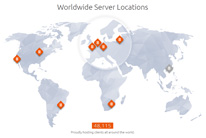 Host1Plus Data Centres
Shared Hosting Servers Pricing
Host1Plus offers three different plans all with immediate account set up. Starting with the Personal plan providing capacity for five databases and three add-on domains, moving up to the Business plan and then the Business Pro plan at the highest of the three options providing unlimited databases and add-on domains. These plans offer a simplified back-up system, unlimited email accounts and allow one to select their PHP version ranging from PHP 4.4 to PHP 7.
Plan Name
Domains
Space
Bandwidth
Panel
Data Centres
Price
Link
Personal
3
Unlimited
Unlimited
cPanel, DirectAdmin
US, DE, BR, ZA
$3.00
N/A
Business
10
Unlimited
Unlimited
cPanel, DirectAdmin
US, DE, BR, ZA
$6.00
Business Pro
Unlimited
Unlimited
Unlimited
cPanel, DirectAdmin
US, DE, BR, ZA
$9.00
Use our coupon now and get 40% discount of all shared web hosting plans with promo code 40OFFWEB!
VPS Hosting Servers Pricing
All VPS plans come standard with Intel Xeon processors, SSD caching, a 500Mbps uplink, RAID data storage and a 99.99% uptime guarantee. They offer six different options starting with the Amber plan providing 256MB RAM and 500 GB Bandwidth ranging up to 16,384MB RAM and 12,000GB bandwidth on the Diamond plan. Their most popular option is the Silver plan with 2,048MB RAM, 2,000GB bandwidth and 80GB disk space. Instant deployment is possible on all virtual hosting plans along with DNS management and full root access.
Plan Name
CPU
RAM
Storage
BW
Panel
Data Centres
Price
Link
Amber
0.5 Cores
256MB
20GB
500GB
Sentora, Ajenti, Vesta, cPanel
US, DE, BR, ZA
$2.00
Get Discount
Bronze
1 Cores
768MB
60GB
1TB
Sentora, Ajenti, Vesta, cPanel
US, DE, BR, ZA
$4.75
Silver
2 Cores
2GB
80GB
2TB
Sentora, Ajenti, Vesta, cPanel
US, DE, BR, ZA
$14.70
Gold
4 Cores
4GB
200GB
3TB
Sentora, Ajenti, Vesta, cPanel
US, DE, BR, ZA
$29.30
Platinum
6 Cores
8GB
500GB
7TB
Sentora, Ajenti, Vesta, cPanel
US, DE, BR, ZA
$64.50
Diamond
8 Cores
16GB
1TB
12TB
Sentora, Ajenti, Vesta, cPanel
US, DE, BR, ZA
$105.00
Cloud Servers Hosting Pricing
Plan Name
CPU
RAM
Storage
BW
OS
Data Centres
Price
Link
LIN1
1 Core
512MB
20GB
2TB
Linux
US, DE
$4
Get Discount
LIN2
2 Cores
2GB
40GB
4TB
Linux
US, DE
$8
LIN4
4 Cores
4GB
100GB
7TB
Linux
US, DE
$15
LIN8
4 Cores
8GB
200GB
14TB
Linux
US, DE
$25
LIN16
6 Cores
16GB
500GB
19TB
Linux
US, DE
$45
LIN32
8 Cores
32GB
1000GB
24TB
Linux
US, DE
$78
WIN4
2 Cores
4GB
100GB
6TB
Windows
US, DE
$12.50
WIN8
4 Cores
8GB
200GB
8TB
Windows
US, DE
$22
WIN16
6 Cores
16GB
500GB
15TB
Windows
US, DE
$43
WIN32
8 Cores
32GB
1000GB
20TB
Windows
US, DE
$76
Reseller Hosting Pricing
Four reseller Hosting plans are available; Starter, Personal, Business and Business Pro. All of the plans come with a free dedicated IP, unlimited domains and sub-domains, a 99.99% uptime, unlimited email accounts, an application installer, unlimited databases, back-up management and both DirectAdmin and cPanel. There is no WHM transfer tool available and transfer can only be carried out by the support team.
Plan Name
Space
Bandwidth
Hosted Domains
Data Centres
Price
Link
Starter
50GB
500GB
Unlimited
US, DE, BR, ZA
$20
N/A
Personal
75GB
750GB
Unlimited
US, DE, BR, ZA
$25
Business
125GB
1250GB
Unlimited
US, DE, BR, ZA
$35
Business Pro
150GB
1500GB
Unlimited
US, DE, BR, ZA
$50
Our Overall Conclusion
This company has a really professional support team which is ready to help you at any time. They offer a wide range of servers all over the world which is a really big plus. Prices are also really good and affordable, so Host1Plus is one of the best UK hosting companies.
FAQs
What versions of PHP do Host1Plus offer?
Currently there are 5 PHP versions – 4.4, 5.2, 5.3, 5.4, 5.5, 7.
Can I buy a dedicated IP?
Some web hosting plans included it, but additional can be purchased within the Client Area.
Were we able to help you? Then you will be interested in these reviews too: