Review about Nexcess Web Hosting Company
Nexcess
5/5
Shared Hosting from £9.21 p/m
Data Centres:

UK

US

NL

AU

Uptime: 100%
Extras:


+

Own Control Panel


+

Free Site Migration


+

Get Clustered


+

Global Content Delivery


+

30-Day Guarantee
When it comes to picking a good web hosting plan, it helps to know what options exist on the web. With so many to pick from, it can be hard to know who suits your need and who cannot fulfil your ambitions. To deal with that, we want to take a look at one particular firm; Nexcess Hosting. They've been around for a little while now, and have a pretty solid reputation.
Are they, though, the right choice for you in particular? What kind of benefits await if you choose to use their service?
Click here to get the best web hosting solution from Nexcess!
A Brief History
Formed in 2000, Nexcess has gone through a major metamorphosis over the years, constantly changing and altering its style to improve. It's become a very powerful eCommerce platform over the years, maintaining a high level of credibility as they continue to grow and globalize their appeal.
They help people from online publications to small-time bloggers find affordable and professional hosting for their content. However, they operate with everything from solo blogs to large, complex companies looking for high-end networking solutions.
In general, they've always been ambitious, looking to add new features that can take them further than beforehand.
| Company: | Address: | Telephone: | Email: | Website: |
| --- | --- | --- | --- | --- |
| Nexcess | 21700 Melrose Avenue, Southfield, MI 48075, United States | +0-808-120-7609 | support@nexcess.net | nexcess.co.uk |
Check Nexcess' Web Hosting Gallery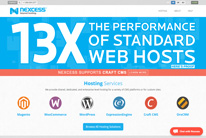 Nexcess Homepage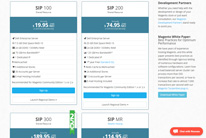 Compare Web Hosting Plans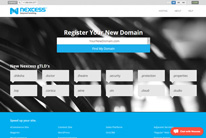 Register a Free Domain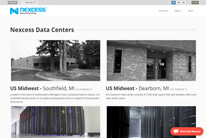 Nexcess Data Centres
Data Centres Overview
They first opened a data centre in Dearborn, Michigan in 2006. Since then, they've added a small armada of other data centres across the US, UK, Europe and Australia. With locations in Byfleet, Amsterdam, Sydney, California, Miami, Florida and beyond they make it easy for people to use their services.
This allows for high performance management of eCommerce platforms across the globe, serving Europe, Southern and Central America and Asia-Pacific areas. This helps customers from all across the globe feel relatively safe when using this platform, given the fact it's likely they'll have a datacentre near your nation.
What Services are Provided?
They offer a wealth of very useful hosting services, such as:
Shared Hosting – you share your hosting with a group of other clients. Together, you all get allocated the space that you need to run without any issues. It makes the general management and improvement of your services so much easier to see. It also allows you to get a more cost-effective hosting option. This works best for those who are on a budget or don't need dedicated server space.
Plan Name
Domains
Space
Bandwidth
Panel
Data Centres
Price
Link
UK WP-OBP 100
10
10GB
150GB
Own
UK, US, NL, AU
£9.06
Get Discount
UK WP-OBP 200
25
30GB
300GB
Own
UK, US, NL, AU
£31.81
UK WP-OBP 300
50
70GB
750GB
Own
UK, US, NL, AU
£107.64
Dedicated Hosting – This is great for those who need space all to themselves, and when you want full attention, control and security optimization. Dedicated hosting costs more but is one of the key reasons why people use this package; it allows you to be in complete control of your hosting needs. Gives you the command and freedom you need to manage things as you wish.
Plan Name
CPU
RAM
Storage
BW
Data Centres
Price
Link
UK WP-OBP 400
2x Hex Core E5-2420 1.9 Ghz
16GB
300GB
1TB
UK, US, NL, AU
£374.95
Get Discount
UK WP-OBP 500
2x Hex Core X5650 2.67 Ghz
24GB
600GB
2TB
UK, US, NL, AU
£477.71
Reseller Hosting – This allows you to sell on hosting to friends and clients, making it easy for you to have control and access to domains across the board. Also great for hosting one site with different users, allowing you to more or less be in complete control of your online empire while having access to the back-ends of each site. Allows you to manage a growing number of hosting accounts, meaning that you are always the one in command.
Plan Name
Websites
Disk Space
Bandwidth
Data Centre
Price
Link
RH 100
30
20GB
100GB
US
$19.95
Get Discount
RH 200
60
30GB
200GB
US
$30.95
RH 300
100
50GB
300GB
US
$48.95
RH 400
Unlimited
75GB
400GB
US
$60.95
They also deal in other useful solutions such as CDN networks and cluster environments. They offer just about anything you may need in terms of hosting, really.
Do They Provide Control Panels?
Yes, they do indeed – they have developed their own control panel. You can get access to some high-quality panels to run the back-end of your site(s) with. Since they give you access to both Magento and WordPress, you can easily set up websites for eCommerce needs, for simple content sites using ExpressionEngine and sales platforms for things like OroCRM.
In total, you should be able to make the most of features like cPanel to help build up whatever it is that you might need. In no time at all, this will make a telling difference to the way that your website runs. They offer the majority of the features you need, making it easy for you to make the most of cPanel and other helpful features.
Not sure how to use them? The helpful and friendly, fast-acting support can definitely help you utilize them in whatever way you need.
Other Extras and Benefits
They also offer very useful add-ons like WooCommerce to help you manage the back-end of your eCommerce site with ease. Alongside this, they offer useful security options like SSL certification, domain name registration and content delivery networks to help you stay in complete control of the direction of your site.
Other extras like Craft CMS and ExpressionEngine make it easy for you to totally manage the back-end of your website regardless of the reasons for your site existing.
From using Joomla and OpenAds to Mambo and Drupal, they offer just about anything that you would expect to get from a hosting firm that manages eCommerce platforms so regularly.
Conclusion
Overall, Nexcess web hosting is a well-managed and effective hosting platform. While others might beat it in terms of overall features and usage, it offers a pretty stable platform for anyone who is looking to get started on a hosting platform. They are relatively well-priced, offer a good-to-high level of support and are usually pretty good with dealing with most problems. Yes, they offer a solid option to go with.
If you aren't happy with a current provider or are looking for a good starting point, this could be the place to start.
FAQs
Do Nexcess provide SSL Certifications?
Yes, they do. You can get SSL certification through their "adjacent" services.
Do they offer eCommerce support?
Yes, they do. You can easily use Nexcess for this kind of feature if you so choose.
Were we able to help you? Then you will be interested in these reviews too: