We are currently NOT advising you to use UK2 Web Hosting
Please, choose from our reliable alternatives:
This company is based in Shoreditch, London and is part of the UK2 Group which has hosting businesses in the USA, and therefore has what they call 'international clout'. They were established almost twenty years ago, have sold more than one million domain names and have served clients from more than 200 worldwide locations. Support is available 24/7.
Each domain name that is registered with UK2 comes with a free one-page website which can be built with InstantWebsite which is a site builder tool, a free email address with 200MB storage capacity as well as forwarding from five alternative email addresses. All domains are offered with full DNS management and access to UK2's intelligent control panel.
Data Centres and Servers – Overview
UK2's data centre is housed in London and they have cloud servers in Singapore, Frankfurt, London, Paris, Manchester, Seattle, San Jose, Salt Lake City, Dallas, Chicago, Atlanta and Washington.
| Company: | Address: | Telephone: | Skype: | Website: |
| --- | --- | --- | --- | --- |
| UK-2 Limited | 91 Brick Lane, Shoreditch, London, E1 6QL | 0800 612 2142 | uk2sales1 | uk2.net |
Check UK2's Web Hosting Gallery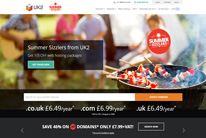 UK2 Homepage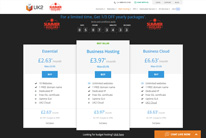 Compare Web Hosting Plans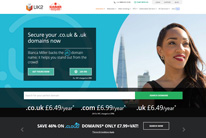 Register a Free Domain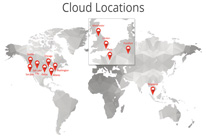 UK2 Data Centres
Shared Hosting Servers Pricing
Three options are available; Essential, Business Hosting and Business Cloud. Essential provides hosting for 10 websites, while the Business Cloud plan provides hosting for unlimited websites. Only the Business Hosting and Business Cloud plans come with a free SSL certificate and only the Business Cloud plan comes with an uptime service level agreement.
Plan Name
Domains
Space
Bandwidth
Panel
Dedicated IP
Uptime SLA
Data Centre
Price
Link
Essential
10
Unmetered
Unmetered
cPanel
–
–
London, UK
£1
N/A
Business
Unlimited
Unmetered
Unmetered
cPanel
Yes
–
London, UK
£4.48
Business Cloud
Unlimited
Unmetered
Unmetered
cPanel
Yes
Yes
London, UK
£7.98
Premium WordPress Hosting Servers Pricing
Plan Name
Domains
Disk Space
Monthly Visits
Panel
Emails
Data Centre
Price
Link
Primary
1
10GB SSD
Up to 25,000
cPanel
25
London, UK
£9.99
N/A
Pro
1
20GB SSD
Up to 100,000
cPanel
50
London, UK
£12.99
VPS Hosting Servers Pricing
UK2's VPS cloud servers can be up and running on either Windows or Linux within a few minutes and are provided with automatic failover, which means that website data will stay online no matter what hardware failure might occur as client data is instantly transferred to a live machine without any disruption.
The VPS is provided on the VPS Cloud option or the SSD VPS. The VPS Cloud option is provided with toggle switches for CPU, RAM and HDD, however there are recommended presets, UKV100, UKV200, UKV400 and UKV800. CPU is available from 1GHz up to 12GHz, RAM is available from 256MB up to 10GB and HDD is available from 50GB up to 160GB. When it comes to the SSD VPS options, solid state drives are made to provide read and write commands instantaneously, therefore providing a much faster environment and so this is best for those clients who want the VPS but with a touch of speed.
The plans available are VPS1GB which UK2 says is ideal for simple websites and small test environments, VPS2GB which is best for WordPress, Drupal, forums and medium sized web shops, VPS4GB suited to busy websites, forums and hosting control panels, VPS8GB which is best for complex web apps, forums and busy web shops and VPS16GB, similarly suitable for the latter.
Plan Name
CPU
RAM
Storage
Panel
Data Centres
Price
Link
UKV100
1GHz
256MB
50GB
cPanel
London, UK
£5.96
N/A
UKV200
2GHz
1GB
60GB
cPanel
London, UK
£15.96
UKV400
3GHz
2GB
100GB
cPanel
London, UK
£32.62
UKV800
8GHz
8GB
120GB
cPanel
London, UK
£92.58
SSD VPS
4 Cores
2GB
50GB SSD
cPanel
UK, US, CA, NL
£10
Dedicated Servers Pricing
Servers available are D1 through to D6, starting at 4GB RAM with a 2TB data limit, all the way to the D6 package offering 64GB RAM with a 100TB data limit. Managed hosting is available and managed hosting servers are provided with tech support extras, including a 24/7 support service and free added extra security and a proactive monitoring service to ensure no important updates are missed, and also to assist if something goes wrong. The managed servers are provided on the same basis as above, however each package, D1 through to D6 is slightly more expensive due to the technical support provided.
As a standard service, UK2 monitor their servers at an infrastructure level which includes storage, data centre security and network power. The service also checks to ensure the website or apps are running smoothly.
Plan Name
CPU
RAM
Storage
BW
Panel
Price
Link
D1
E3-1230
4GB
1TB
2TB
cPanel
£49.57
N/A
D2
E3-1231v3
8GB
2x 1TB
10TB
cPanel
£76.90
D3
E3-1271v3
16GB
2x 3TB
10TB
cPanel
£101.94
D4
E5-2620v3
16GB
2x 3TB
100TB
cPanel
£134.75
D5
2x E5-2620v2
32GB
2x 4TB
100TB
cPanel
£162.10
D6
2x E5-2650v3
64GB
4x 4TB
100TB
cPanel
£241.44
Website Builder
A website builder with prices starting from £1 per month is also on offer, where clients can choose from 100 different pre-designed mobile-ready templates.
FAQs
What support does UK2 offer?
Email, chat and phone support, every day of the year, 24 hours per day.
Were we able to help you? Then you will be interested in these reviews too: