Hosting.co.uk Review – Check All Details
Hosting.co.uk
4/5
Shared Hosting from £1.50 p/m
Data Centre:

UK

Uptime: 99.9%
Extras:


+

Promo Code: special15off


+

cPanel


+

Money back guarantee


+

1-Click CMS Installs


+

Free web hosting migration


+

24x7x365 Support
Hosting.co.uk provides service to their clients 24 hours a day, seven days a week and 365 days per year. They are also a green hosting provider because their data centre is power efficient with a PUE (Power Usage Effectiveness) of under 1.3. They have a price lock guarantee which sets them apart from many other hosting providers – the guarantee means that they will not raise hosting prices for the lifetime of a client's hosting account with them.
They offer the ability for increased control with one of four cPanel hosting packages, providing the client with the full functionality required to manage their own hosting. Starting with the Beginner plan, it provides 10GB disk space, 100GB bandwidth, 10 email accounts and two unique websites and ending with the top option – Ultimate – which provides unlimited disk space, bandwidth, email accounts and unique websites.
Use our promo code 'special15off' and get 15% discount for hosting!
Data Centres and Servers
Their data centre and servers are all located within the UK and they have a Tier 4 data centre in Nottingham.
| Company: | Address: | Telephone: | Email: | Website: |
| --- | --- | --- | --- | --- |
| Hosting.co.uk | BPM 70000 372 Old Street, EC1V 9AU London, UK | +44 (0) 20 3514 5647 | sales@hosting.co.uk | hosting.co.uk |
Check Hosting.co.uk's Web Gallery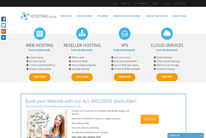 Hosting.co.uk Homepage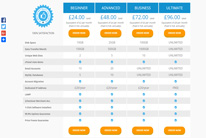 Compare Web Hosting Plans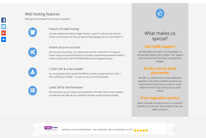 Web Hosting Features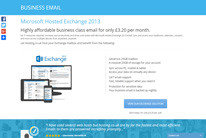 Hosting.co.uk Business Email
Shared Hosting Servers Pricing
There are four web hosting plans; Beginner, Advanced, Business and Ultimate which is the most popular and best value. The Beginner plan provides 10GB disk space and 100GB bandwidth with two unique websites and 10 email accounts, while the Ultimate plan provides unlimited disk space, bandwidth, websites and email accounts. The Ultimate plan is the only option with a dedicated IP address and all plans come with free migration within 24 hours.
Plan Name
Domains
Space
Bandwidth
Panel
Price
Link
BEGINNER
2
10GB
100GB
cPanel
£2.00
Get Discount
ADVANCED
5
25GB
500GB
cPanel
£4.00
BUSINESS
10
100GB
1000GB
cPanel
£6.00
ULTIMATE
Unlimited
Unlimited
Unlimited
cPanel
£8.00
VPS Hosting Servers Pricing
Hosting.co.uk has four different plans; VPS Standard, which they suggest as being perfect for a small project, VPS Optimal, a middle level plan, VPS Power which is what they call a high level plan and VPS Premium which they claim to be a powerful VPS package.
The VPS standard provides 20GB disk space, unlimited bandwidth and two IP addresses, while the VPS Premium also provides unlimited bandwidth but with a higher amount of disk space at 50GB and four IP addresses. Clients can adjust the resources of their package as and when required with no interruption in service, thereby making the VPS plans scalable as well as convenient.
Linux VPS hosting is also available on four different plans offering the same specs as the above.
A fully managed option on all plans is available but for an additional charge. All VPS plans also come with free migration from a client's old service provider and have a 99.9% uptime guarantee.
Plan Name
CPU
RAM
Storage
BW
Panel
Price
Link
STANDARD
1 Core
1GB
20GB
Unlimited
cPanel
£9.95
Get Discount
OPTIMAL
1 Core
2GB
30GB
Unlimited
cPanel
£19.95
POWER
2 Cores
3GB
40GB
Unlimited
cPanel
£29.95
PREMIUM
1 Core
4GB
50GB
Unlimited
cPanel
£39.95
Dedicated Servers Pricing
The dedicated servers are set up on the same day as purchase and are offered on four different single processer plans and four different dual processor plans with the entry level single processor plan providing 8GB RAM and 2 x 1TB HDDs and at the top end of the dual processor plans 128GB RAM and 4 x 240GB SSDs are provided. All eight plans come with two IP addresses and 5,000GB bandwidth.
Hosting.co.uk have a four-hour hardware replacement guarantee and all servers come with full root admin access.
A fully managed option is available for an additional charge and other optional extras are available such as eight additional IP addresses and 10TB of extra bandwidth if required.
Plan Name
CPU
RAM
Storage
BW
Panel
Price
Link
Intel 8 Core C2750
8×2.4GHz
8GB
500GB
5TB
cPanel
£40
Get Discount
Intel Xeon E3-1220 v2
4×3.1GHz
8GB
2x 500GB
20TB
cPanel
£59
Intel E3-1230 v3
4×3.3GHz
8GB
2x 1TB
20TB
cPanel
£90
Intel Xeon E3-1220 v2
4×3.1GHz
16GB
2x 1TB
20TB
cPanel
£119
Intel E3-1230 v3
4×3.3GHz
8GB
2x 240GB SSD
20TB
cPanel
£125
Intel E3-1270 v3
4×3.5GHz
16GB
2x 1TB
20TB
cPanel
£129
Intel E3-1270 v3 SSD
4×3.5GHz
16GB
2x 240GB SSD
20TB
cPanel
£159
Intel Xeon E3-1270 v3
4×3.5 GHz
16GB
2x 1TB
Unmetered
cPanel
£159
Reseller Hosting Servers Pricing
A white label platform is provided as well as various tools such as billing software, SEO tools and theme discounts. This hosting is offered via four plans; Mini, Startup, Professional and Leader which is the most popular choice. The Mini option has 10GB disk space and 100GB bandwidth, while the Leader has 200GB disk space and 2,000GB bandwidth.
Plan Name
Websites
Space
Bandwidth
Price
Link
MINI
10
10GB
100GB
£6
Get Discount
STARTUP
25
25GB
250GB
£12
PROFESSIONAL
100
100GB
1000GB
£18
LEADER
Unlimited
200GB
Unlimited
£24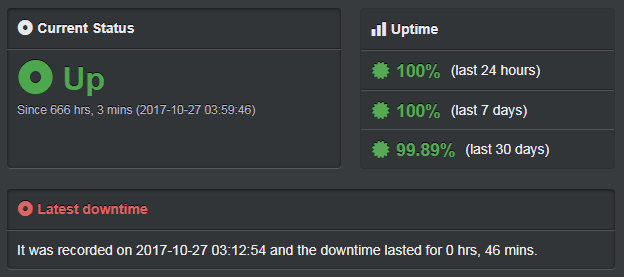 FAQs
Is a money back guarantee offered?
A 30-day money back guarantee is provided so if a client is not fully satisfied they will receive a full refund.
What are the benefits of cPanel hosting UK?
Because no third party software needs to be installed on your system, ease of use is a great benefit as well as the automation of tasks since the need to continually configure the server setup or the maintenance disappears.
Were we able to help you? Then you will be interested in these reviews too: