A Brief Introduction about TMDhosting Review
TMDhosting
5/5
Shared Hosting from $2.74 p/m
Data Centres:

UK

US

NL

SG

JP

AU

Uptime: 99.99%
Extras:


+

Promo Code: TUKH7


+

Free Domain for life


+

cPanel


+

Drag & Drop sitebuilder


+

60 day money back guarantee


+

Cutting Edge Technology


+

24/7/365 Genius Support
TMDhosting is a privately owned company based in the US that has been in operations since 2007, dedicated to offering reliable hosting services with lots of great features embedded which has helped the company to rapidly grow and to continually attract customers.
Click here and order your trusted web hosting solution from TMDhosting!
TMD company has its hosting services dedicated to provide customers with easy modules and template installation, state of the art website optimization and performance programs, web content and traffic monitoring system, prompt and easy web application upgrade and maintenance, super-fast customer complaint and inquiry response time from professional customer care representative and technician that are fully prepared to assist and deal creatively and politely with technical web problems customers might face.
Also, TMD hosting offers blazing fast servers, amazing data uptime scores, massive server capacity, free application installation, plugin installation to optimize website performance, free template to offer an attractive web view, and regular update to keep you connected. The company is widely known for the use of professional individuals and teams such as technical support specialists, web designers and developers, marketers, dedicated and sound customer care representative, system administrator, which is a plus in the development innovations and ideas in its hosting environment and to provide quality hosting services to its teaming customers.
| Company: | Address: | Telephone: | Email: | Website: |
| --- | --- | --- | --- | --- |
| TMDHosting | 618 E South St, Ste 500, Orlando, Florida | 0800-014-8290 | sales@tmdhosting.com | tmdhosting.com |
Check TMDHosting's Web Hosting Gallery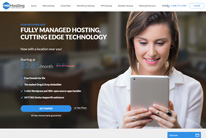 TMDHosting Homepage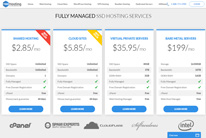 Compare Web Hosting Plans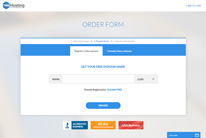 Register a Free Domain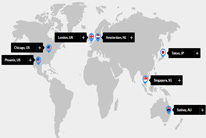 TMDHosting Data Centres
Services Offered
TMDhosting has lots of hosting plans developed to help customers achieve their aims. Such plans include:
Shared Hosting Servers Pricing
TMD shared hosting plan is a lightning fast, fully managed SSD shared hosting plan provided to customers in starter, business and professional packs. This plan features unlimited bandwidth and a massive SSD storage to support speedy page load, free domain, one website hosting for starter plans and unlimited website hosting services for business and professional plans, 24/7 premium technical support to help you get started, Free SSH access, Softaculous auto-installer, and prompt multiple daily website database and file backup to ensure no data-loss and full data restoration at no cost with the help of their senior system administrators.
Also, TMD has its shared hosting plan embedded with a web based firewall to guarantee website protection from malicious threats, anti-spam tools to protect your messages, and it's powered by cPanel.
Plan Name
Domains
SSD Space
Bandwidth
Panel
OS
Data Centres
Price
Link
STARTER
1
Unlimited
Unlimited
cPanel
Linux
UK, US, NL, SG, JP, AU
$2.85
Get Discount
BUSINESS
Unlimited
Unlimited
Unlimited
cPanel
Linux
UK, US, NL, SG, JP, AU
$5.85
PROFESSIONAL
Unlimited
Unlimited
Unlimited
cPanel
Linux
UK, US, NL, SG, JP, AU
$12.85
STARTER
6
Unlimited
Unlimited
Plesk
Windows
US
$3.99
BUSINESS
Unlimited
Unlimited
Unlimited
Plesk
Windows
US
$5.99
PROFESSIONAL
Unlimited
Unlimited
Unlimited
Plesk
Windows
US
$11.99
VPS Hosting Servers Pricing
TMD VPS cloud hosting is one of the most flexible hosting plan available in 5 different packages with its services provisioned as an isolated but private network aimed at providing customers with greatly improvised connectivity and fast page load through its dedicated channels. The VPS cloud plan comes with doubled components in order to achieve high availability and 99.99% of database uptime, military grade security to protect your files and database, free anti-spam tool to protect your messages, web based firewall to protect your VPS from malicious threats, massive SSD infrastructure of 40GB to 150GB to support your data surf blazing experience, 3TB to 7TB bandwidth, 2 to 6 GB DDR4 RAM, 2 to 8 cores CPUs, Softaculous auto-installer with an easy to use cPanel.
Plan Name
CPU
RAM
Storage
BW
Panel
Data Centres
Price
Link
VPS1
2 Cores
2GB
40GB SSD
3TB
cPanel
UK, US, NL, SG
$35.95
Get Discount
VPS2
2 Cores
3GB
60GB SSD
4TB
cPanel
UK, US, NL, SG
$53.95
VPS3
4 Cores
4GB
80GB SSD
5TB
cPanel
UK, US, NL, SG
$71.95
VPS4
8 Cores
4GB
120GB SSD
5TB
cPanel
UK, US, NL, SG
$98.95
VPS5
8 Cores
6GB
150GB SSD
7TB
cPanel
UK, US, NL, SG
$116.95
Note: You can order a VPS in the UK ONLY by contacting the Live Chat support!
Dedicated Server Hosting Pricing
TMD Dedicated server plan is fashioned to allow customers achieve their goals using all paid resources without the need to share with anyone and to help upgrade your business to higher level without headache.
This plan is made available in 5 plans with 1TB to 2TB SATA storage, 10TB bandwidth each, 4×2.8Ghz to 12×2 GHz CPU cores, 16GB to 24GB RAM, unmatched technical support, and enterprise grade security to monitor website security.
Plan Name
CPU
RAM
Storage
BW
Panel
Data Centres
Price
Link
INTEL I5-760
4×2.8 GHz
16GB
2x500GB
10TB
cPanel
US, NL
$199
Get Discount
E3-1230 V3
4×3.2 GHz
8GB
500GB
10TB
cPanel
US, NL
$229
E3-1270 V3
4×3.5 GHz
8GB
1TB
10TB
cPanel
US, NL
$269
E5-2620 V2
6×2.0 GHz
24GB
2x1TB
10TB
cPanel
US, NL
$319
E5-2620 V2
12×2.0 GHz
24GB
2x1TB
10TB
cPanel
US, NL
$389
Cloud Hosting Servers Pricing
TMD cloud hosting plan is made available to customers in summer cloud plan of 48GB SSD space, 768MB RAM and 1.5TB bandwidth, Rain cloud plan of 65GB storage, 1.5GB RAM and 2.5TB bandwidth and Storm Cloud plan of 85GB space, 2GB RAM and 3.5TB bandwidth.
Plan Name
Websites
CPU
RAM
SSD Space
BW
Panel
Data Centre
Price
Link
SUMMER CLOUD
1
2 Cores
2GB
Unlimited
Unlimited
cPanel
UK, US
$5.85
Get Discount
RAIN CLOUD
Unlimited
4 Cores
4GB
Unlimited
Unlimited
cPanel
UK, US
$6.85
STORM CLOUD
Unlimited
6 Cores
6GB
Unlimited
Unlimited
cPanel
UK, US
$10.85
Reseller Hosting Servers Pricing
TMD hosting company has its Reseller plan designed to support web hosting service Reseller making it much easier for them to deploy, create, sell and manage new client accounts with separate cPanel accounts. The company also offers an unmatched level of technical support and a super-fast response rate to save time, money and ensure all customer's satisfaction.
This plan features 700 to 2000GB bandwidth, SSD space of 65GB to 200GB, unlimited website hosting, box billing for enterprise and professional Reseller plan. All plans are implemented with WHM and cPanel.
TMD also supports other open source hosting like PrestaShop Hosting, SocialEngine Hosting, Dolphin Hosting, Drupal Hosting, Concrete5 Hosting, osCommerce Hosting, CubeCart Hosting, X-Cart Hosting, Joomla Hosting, WordPress Hosting, SMF Hosting, Magento Hosting and Moodle Hosting.
Plan Name
Websites
SSD Space
Bandwidth
Panel
Data Centres
Price
Link
STANDARD
Unlimited
65GB
700GB
cPanel
US, NL, SG
$19.95
Get Discount
ENTERPRISE
Unlimited
130GB
1400GB
cPanel
US, NL, SG
$34.95
PROFESSIONAL
Unlimited
200GB
2000GB
cPanel
US, NL, SG
$49.95
Equilpments, Database Security Settings and Data Centres
TMDhosting company achieves excellent service delivery based on commitment, use of high quality name brand equipment, and the establishment of servers based on Supermicro rack mountable servers powered by power efficient processors.
The company has its network handled by Dell edge routers, top of the line Juniper, and Cisco routers all aggregated through Cisco and Juniper switches. They also use multiple Tier 1 telcos including AT&T, Internap and AboveNet to operate more than 500 Gbps of transit and data peering capacity.
TMD hosting company has its data centre certified under the SSAE-16 standard to guarantee high levels of operational standards installed with numerous industry-standard amenities, raised floors, climate control systems, 24/7 biometric security, fire suppression systems, water detection systems, uninterrupted power supply systems and high capacity generators to ensure its facility and database security.
TMD has its data centres well rooted in Chicago with all hosting services available, Phoenix with Dedicated Server, London to offer Shared Hosting services, Amsterdam to offer Shared Hosting, VPS Hosting, Reseller Hosting, Dedicated Server services, Singapore to offer Shared Hosting, VPS Hosting, Reseller Hosting, Dedicated Servers, Sydney to offer Shared Hosting and Tokyo to offer Shared Hosting services to its customers.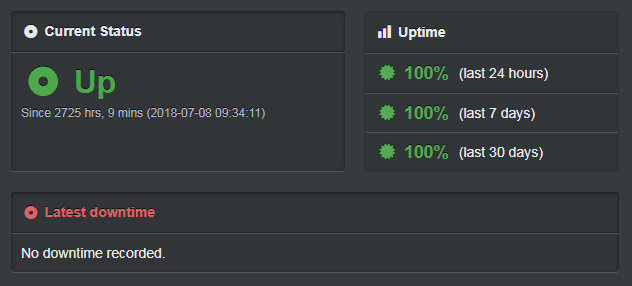 FAQs
What are your remedies to ensure customer satisfaction?
TMDhosting service values customer satisfaction and has its mission powered by its commitment to provide excellent hosting environment and services. And in case any customer is not satisfied with the service provided, TMDHosting offers 60-day money back guarantee.
What is the TMDhosting uptime guarantee?
TMD hosting take data uptime seriously and will do its best to ensure 99.9% availability of your websites with full redundancy at all levels within its network and hardware infrastructure.
Were we able to help you? Then you will be interested in these reviews too: