FastComet Review – Web Services Highlights
Fastcomet
5/5
Shared Hosting from $3.95 p/m
Data Centres:

UK

US

DE

NL

SG

JP

Uptime: 99.99%
Extras:


+

Free Domain for life


+

cPanel


+

Fixed Renewal Price


+

SSD-only Storage


+

Free CDN


+

45-day Money Back
When it comes to web hosting services, Fastcomet is one of the best available. Fastcomet is a web hosting company that offers distinct web hosting services having gained vast experience been in operation over 16 years before moving to public cloud hosting in 2013. The company has successfully achieved renowned excellence in providing high quality web hosting experience to its esteem customers, super-fast page loading speed, database security and a responsive customer care services to rank as an excellent hosting choice.
Click here and order your trusted web hosting solution from Fastcomet!
Fastcomet offers out of boundary extra service such as the installation and configuration of WordPress, Joomla, Drupal and other custom script aimed at giving its customers the opportunity to fulfil their dreams of wanting to start a new website project, transferring of an existing project as a result of poor hosting services and their desire to have their websites "up and running" even when financially limited.
Also, Fastcomet offers 300% improved website performance, 0.1 milliseconds page and data access time, hack free database security with web application firewall optimization to prevent unknown security threats, full support for open source applications and hosting services, free audit and malware removal services, easy client accessibility via various device platforms, user friendly tutorials to get you started, proactive database and file monitoring approach, fast blog and web content delivery, optimum SSD-only storage for files and database to provide global CDN access with free CloudFlare CDN on all hosting plans as compared to services offered by other host service provider.
| Company: | Address: | Telephone: | Email: | Website: |
| --- | --- | --- | --- | --- |
| FastComet Inc. | 1714 Stockton Street, Suite 300 – #436, San Francisco, California 94133 | 1.855.818.9717 | sales@fastcomet.com | fastcomet.com |
Check FastComet's Web Hosting Gallery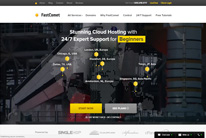 FastComet Homepage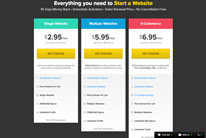 Compare Web Hosting Plans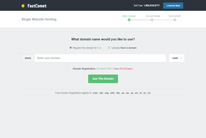 Register a Free Domain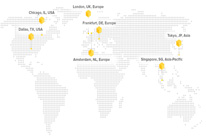 FastComet Data Centres
Hosting Plans Offered
Fastcomet has lots of hosting plans developed to help customers achieve their aims. Such plans include:
Shared Hosting Servers Pricing
Fastcomet shared hosting plan is provided in basic plans for single websites and advanced plans for multiple sites and domain, usually provided from datacentres and made available to customers in less technical and easy to understand compelling languages to new hosting plan users. This hosting plan is embedded with unlimited bandwidth, SDD storage, free website and domain name, immediate account setup, prompt daily and weekly backups, full website performance optimization, CloudFlare CDN caching, web application exploit and malware protection and full time server monitoring. This plan is powered by cPanel and Softaculous to ensure 1 click data backup and restoration with servers operating on CloudLinux with full FFmpeg support.
Plan Name
Domains
Space
Bandwidth
Panel
Data Centres
Price
Renewal
Link
STARTSMART
1
15GB SSD
Unmetered
cPanel
UK, US, DE, NL, SG, JP
$3.95
$3.95
Get Discount
SCALERIGHT
Unlimited
25GB SSD
Unmetered
cPanel
UK, US, DE, NL, SG, JP
$6.95
$6.95
SPEEDUP
Unlimited
35GB SSD
Unmetered
cPanel
UK, US, DE, NL, SG, JP
$10.95
$10.95
WordPress Hosting Servers Pricing
Fastcomet also sells a few application-specific hosting services developed using a combination of hosting and managed services. As on the case of its WordPress hosting which is based around a shared hosting account, but incorporated with free template installation, malicious virus scanning and threat protection, firewall protection, and easy backup and data restoration services for WordPress itself. It is still the same UK shared hosting advertised on its site, but rebadged with the WordPress brand thereby offering users FTP access, which is an additional point for Fastcomet when compared to other managed WordPress hosts.
VPS Hosting Servers Pricing
Fastcomet has its VPS hosting provided to customers as a fully managed plan solution, incorporated with SSDs to offer blazing speed experience. Customers can choose to locate their VPS in the UK, US, rest of Europe or Asia, and all plans runs with cPanel, WHM, and Softaculous. This plan features SSD space of 24GB to 192GB for fast read and write speed for both files and database, bandwidth of 2TB to 8TB, HDD space of 1GB to 8GB, network out speed of 250 Mbit to 1000 Mbit, full root access, 24/7 technical support services, and prompt daily and weekly backups for data and files.
Plan Name
CPU
RAM
Storage
BW
Panel
Data Centres
Price
Link
EU CLOUD 1
Single 2.80GHz
1GB
24GB SSD
2TB
cPanel
UK, US, DE, NL, SG, JP
$59.95
Get Discount
EU CLOUD 2
2x 2.80GHz
2GB
48GB SSD
3TB
cPanel
UK, US, DE, NL, SG, JP
$69.95
EU CLOUD 3
4x 2.80GHz
4GB
96GB SSD
4TB
cPanel
UK, US, DE, NL, SG, JP
$89.95
EU CLOUD 4
6x 2.80GHz
8GB
192GB SSD
8TB
cPanel
UK, US, DE, NL, SG, JP
$139.95
Dedicated Server Pricing
Fastcomet dedicated server plans are made available to customers based on their needs for a fully managed and maintained server offering your website fast and powerful performance and allowing you to concentrate on business and other important aspect of your website. This plan is powered by cPanel plus HDD of 4GB to 32GB, SDD of 96GB to 768GB, full root access, automated daily and weekly data backups, and a massive bandwidth ranging from 4TB to 20TB.
All servers are provisioned with free web application firewall to protect and prevent malicious hacking attempts and a free application and module installation to allow easy and free application upgrades.
Plan Name
CPU
RAM
Storage
BW
Panel
Data Centres
Price
Link
DS 1
4x 2.80GHz
4GB
96GB SSD
4TB
cPanel
UK, US, DE, NL, SG, JP
$139
Get Discount
DS 2
6x 2.80GHz
8GB
192GB SSD
8TB
cPanel
UK, US, DE, NL, SG, JP
$179
DS 3
8x 2.80GHz
16GB
384GB SSD
16TB
cPanel
UK, US, DE, NL, SG, JP
$259
DS 4
12x 2.80GHz
32GB
768GB SSD
20TB
cPanel
UK, US, DE, NL, SG, JP
$419
Data Centres
Fastcomet web hosting company based in San Francisco California is dedicated to quality web hosting services with vibrant well established wide spread broadband in the US, UK, rest of Europe and Asia with 7 data centres all across the continents to achieve good coverage. The company has high speed servers in Chicago, Dallas, London, Frankfurt, Amsterdam, Singapore and Tokyo. It has its data centres fully equipped with 24/7 security service, uninterrupted power supply, green cooling system in some locations and fire suppression facilities to cub fire outbreak.
Database Safety and Security
Fastcomet does not only offer hosting services but also provide server protection with various levels of security in placed. As human, it is possible to forget passwords or lose access to documents containing theses passwords, in cases when you run many accounts with different passwords or your try logging in to WordPress frontend and backend but it's not loading! You don't need to panics because Fastcomet has reservations for such situations as long as you can remember your Fastcomet password.
Fastcomet offers high level security measures through its networking protection system, web application and server firewall, custom filter, login monitoring and the incorporation of its easy CloudFlare integration system to offer customers the option of choosing extra levels of security without the need to change server Name.
Customer Satisfaction Policy
Fastcomet is confident of the services such that they guarantee customers' reliable hosting services, fast and professional technical support, high level website and database security and a 45-days money back policy, if the provided service don't match with the customers' expectation.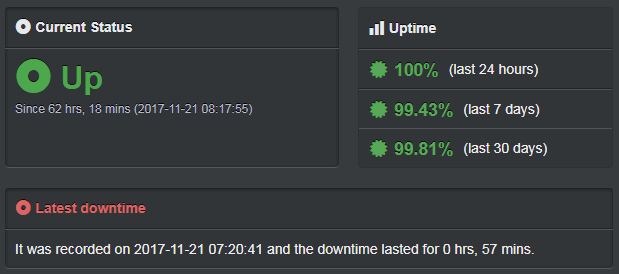 FAQs
Does Fastcomet support WordPress?
Fastcomet supports WordPress and offers its customers the option of choosing to install WP by themselves or to apply for a managed WordPress plan. The fully managed WP with VPS plan saves you the worries of upgrades and error messages because it has skilled technician dedicated to handling such technical issues thereby saving time as all you need to do only entails template selection, content creations and media uploads. Also, Fastcomet has provisions for monthly payment plans through Amex, Visa, MasterCard, Discover and PayPal making it easy to subscribe to various plans available but it is advisable to choose a permanent payment method when signing in.
Were we able to help you? Then you will be interested in these reviews too: