Best cPanel Hosting UK Review – What is cPanel?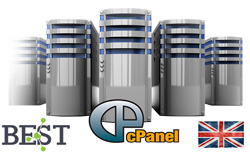 A cPanel is a web based control panel tool with an interface allowing control and access to your hosting account, thereby allowing you to make relevant changes and customisations. These changes may be to modify your domains, configure new ones, set up parked domains, or to manage your email by checking it, adding new accounts and changing passwords, amongst other tasks. You can also manage your files, creating an FTP account in order to access files.
cPanel is probably the most popular interface software due to its robustness, reliability and the number of tools available within the software to manage your sites and it doesn't matter what type of business you have, all types from boutiques to large corporations can benefit from using cPanel.
What is cPanel Hosting?
It is a web hosting control panel based on the use of Linux OS. It has the capability for various users, i.e. the end-user, the reseller and the administrator through a standard web browser. Through this interface, hosting providers are able to automate common system admin processes fairly easily through API and command line access.
cPanel was developed and designed to function as either a dedicated server or virtual private server.
What to Look for in a Host?
Various hosts will offer tier features. Look for one that has the best plan to suit your needs. Most importantly, look for one that offers free PHP tools such as galleries, shopping carts, CMS (content management systems), blogs and other tools as well as 24/7 support. You need to be able to access support in order to fix any problem at any time that you are working on your business, day or night. Another feature to look for is free file and database transfer so that your site can have minimal downtime if you are moving from one host to another.
When choosing which control panel to use for your web hosting it is imperative to make the right choice for your requirements and preferences. Some hosts don't offer cPanel as standard with their UK hosting plans and some don't offer it at all, so do be sure to check it is within their offering if you would specifically like to use cPanel. You may want to also consider using a host that has been utilising cPanel in their hosting plans for more than just a couple of months. It is better to choose a host which has been providing cPanel to its clients for some years as they will have the expertise to assist with any problems you may encounter. Going to an authority is best, especially as a beginner user.
What Kind of Advantages Can You Expect?
There are numerous advantages to cPanel hosting UK, most notably its reliability, as already mentioned above. Here are some further advantages:
Simplicity – The installation process is simple and can be completed in a few steps
Interactive – cPanel offers a number of virtual interfaces for varying users from the end user right through to administrators
Compatibility – The clear benefit to using cPanel is that it is compatible with many open source applications
No expertise required – No prior experience is required. It's even suitable for the very beginner and there are a number of tutorials readily available online and your host will probably provide you with some material too
Ease of management – With cPanel it's possible to manage complex website tasks easily. It also makes management of various domains simple
Efficiency – It increases efficiency within your hosting activities and makes scaling straightforward
What Kind of Disadvantages Can You Expect?
There are some disadvantages to UK cPanel hosting, albeit not many. Here are the main ones:
Size – Small and medium websites will benefit mostly from using cPanel hosting. Anything larger will likely run into problems, but a good hosting provider would not offer such an option to a site with heavy requirements
Vulnerability – There can be a vulnerable time within the cPanel update process since it is done only nightly
Lack of professional appeal – Some would say that cPanel does not have the professional look that might be expected from such an interface in comparison to some of the other control panels available to users
Licensing costs – cPanel is possible to use after purchasing a licence which can be costly
Not easy to remove – When you have installed cPanel, removal is not a simple task and the best way to do it is to reformat your server. This can not only be time consuming but pricey too
Editor's Conclusion
Overall, cPanel is the first choice for most webmasters and administrators. It's easy to manage, tasks can be completed with merely a few clicks and all can be done within a single interface. There are also numerous add-ons available for cPanel such as X-Cart, Webmail Pro, Joomla, Installatron and WHMCS amongst others. This just adds to making it the more favourable control panel for users that want to manage their sites independently of expensive IT firms. In short, cPanel is an efficient control panel with an easy to use graphical interface and more advantages than disadvantages when considering all options.
FAQs
Do I need to update my cPanel periodically?
Yes, it is advised to update to the latest versions soon after they are released. Currently, the latest cPanel version supports Red Hat Enterprise Linux, CloudLinux OS, FreeBSD and Cent OS whereas earlier versions may not support all of these.
Does cPanel come with any auto-script installers?
Yes, some providers will include Fantastico or Softaculous to allow you to install approximately 180 PHP and Java based scripts very easily with only a few clicks.
Are there any new control panels by cPanel?
Yes, cPanel has released Enkompass which is a control panel based on Windows, providing a strong interface with loaded features.
What is the best add-on feature available for cPanel hosting?
A utility application called Softaculous which enables efficient handling of your domain using a web interface. It assists in the installation of a variety of open source applications.