SiteGround Hosting Review – The Best Choice
Siteground
4.5/5
Shared Hosting from £2.75 p/m
Data Centres:

UK

US

NL

SG

Uptime: 99.99%
Extras:


+

cPanel


+

SSD drives for all plans


+

Latest speed technologies


+

Free SSL Certificate


+

Own firewall security rules
SiteGround was established in 2004 by a group of university friends and slowly became a front runner in the web hosting service provider arena. Their beginnings working in a couple of dorm rooms grew to a company which today consists of more than 320 employees and is still growing. They host in excess of 500,000 domains with new domains signing on for their services almost every hour.
Get Web Hosting from the most stable platform online for only £2.75 per month!
Data Centres and Servers
SiteGround's data centres are located in four strategically placed cities around the world, allowing the user to choose the centre which is closest to the bulk of their clients. Located in Chicago, London, Amsterdam and Singapore, the data centres are spread fairly evenly throughout the globe.
Services Overview
This company offers a wide array of services including web hosting, reseller hosting, cloud hosting, dedicated servers, email hosting, FTP and PHP, hosting, MySQL hosting and cPanel hosting. They also offer hosting of the following apps: WordPress, Joomla, Magento, Drupal and PrestaShop.
| Company: | Address: | Telephone: | Email: | Website: |
| --- | --- | --- | --- | --- |
| SiteGround Hosting Ltd. | 18 South Street, London W1K 1DG | +44.20.71839093 | sales@siteground.com | siteground.com |
Check Siteground's Web Hosting Gallery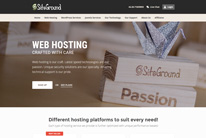 Siteground Homepage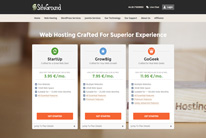 Compare Web Hosting Plans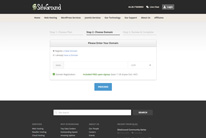 Register a Domain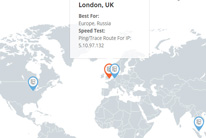 Siteground Data Centres
Shared Hosting Servers Pricing
Offering three different plans, with 'StartUp' at the base of the ladder, suitable for approximately 10,000 visitors per month and providing one website. Next is the 'GrowBig' plan offering 20GB web space, enough for around 25,000 visitors per month and providing multiple websites. And finally, 'GoGeek', suitable for 100,000 visits monthly along with various premium and advanced features including fewer accounts on the server and priority technical support. They claim to offer amazing service and have 99.99% uptime.
Plan Name
Domains
Space
Bandwidth
Panel
Data Centres
Price
Link
StartUp
1
10GB SSD
Unlimited
cPanel
US, UK, NL, SG
£2.75
Get Discount
GrowBig
Unlimited
20GB SSD
Unlimited
cPanel
US, UK, NL, SG
£3.95
GoGeek
Unlimited
30GB SSD
Unlimited
cPanel
US, UK, NL, SG
£7.95
Cloud Hosting Servers Pricing
SiteGround offers four cloud hosting options as well as the ability to create your own plan using toggle switches for CPU, RAM and storage. The options begin at 'Entry' and end with 'Enterprise' with 'Business' and 'Business Plus' second and third on the hierarchy. The Entry plan offers 20GB disk space with a bandwidth of 5TB, while the Enterprise plan provides 80GB disk space with the same amount of bandwidth. If opting to create a plan, the minimum CPU is one and the maximum is 16 cores. RAM is offered at a lowest amount of 2GB with a maximum of 16GB and storage has a minimum choice of 20GB and an upper limit of 200GB.
Plan Name
CPU
RAM
Storage
BW
Panel
Data Centres
Domain
Price
Link
Entry
2 Cores
4GB
40GB SSD
5TB
cPanel
US, UK, NL, SG
Free
£48
Get Discount
Business
3 Cores
6GB
60GB SSD
5TB
cPanel
US, UK, NL, SG
Free
£72
Business Plus
4 Cores
8GB
80GB SSD
5TB
cPanel
US, UK, NL, SG
Free
£96
Enterprise
8 Cores
10GB
120GB SSD
5TB
cPanel
US, UK, NL, SG
Free
£144
Dedicated Servers Pricing
UK Dedicated servers are offered at three different levels, beginning with the aptly named 'Entry Server', second being the 'Power Server' and at the top level, 'Enterprise Server' with two processors. As a feature of the dedicated hosting plans, SiteGround preinstall and maintain all the software required on the server, while also offering what they call '24/7 VIP Support' and 5 IPs.
Plan Name
CPU
RAM
Storage
BW
Panel
Data Centres
Price
Link
Entry Server
Intel Xeon E3-1230
4GB
500GB
5TB
cPanel
US, UK, NL
£147
Get Discount
Power Server
Intel Xeon E3-1270
16GB
1TB
5TB
cPanel
US, UK, NL, SG
£211
Enterprise Server
2x Intel Xeon E5-2620
16GB
4x 500GB
5TB
cPanel
US, UK, NL, SG
£275
Reseller Hosting Pricing
By offering a reseller hosting program to its customers, web developers and designers who look after their own clients' websites can provide reliable website hosting as part of their own provision, which is also a way to increase the resellers' revenue. Benefiting from volume discounts for accounts purchased in bulk, they also offer exclusive domain name deals to their resellers where domain names can be purchased from £6.95 per year.
| Plan Name | Websites | Space | Bandwidth | Data Centres | Price | Link |
| --- | --- | --- | --- | --- | --- | --- |
| Reseller Hosting | 5 | 10GB SSD | Unlimited | US, UK, NL, SG | £174 | Get Discount |
Conclusion
In short, SiteGround appears to offer a variety of services which are explained in a straightforward way on their website for prospective customers. They point out their outstanding service standards and include information on their three founders as well as the rest of their team which provides a personalised touch and an element of trust.
FAQs
What control panel does SiteGround use?
WHM and cPanel.
Is staging for WordPress offered?
Yes, on some of the higher end plans staging for WordPress is available, which means that you are able to test changes simply and effortlessly before implementing them.
Can I choose an SSD drive?
SSD drives are included on all SiteGround's shared hosting plans and cloud plans which allows for a significantly increased input and output in comparison to HDD drives.
Were we able to help you? Then you will be interested in these reviews too: