Best Joomla Hosting UK – Find Your Perfect Match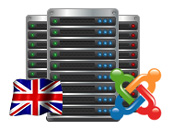 Joomla is one of the most popular open source content management system platform that has been used to build over 50 million websites and online applications. Joomla is an award winning content management system that is very easy to use and allow you to create and publish content on a website. It also provides numerous advanced options for developers to do extensive customization. It is used by many great companies and institutions like Harvard University, Linux.com, MTV Greece and many more. Joomla has a lot of functions, it can be used to create and manage store inventory and can be used to build a catalog for your products. Joomla can also be used to build reservation system for restaurants and many more.
What is Important to Know when Choosing?
When it comes to content management system (CMS) Joomla is the most preferable because it is totally free to use and it allows you to build and manage your content rich website easily. It is also user friendly and if you are good in programming, you can go a long way with it. Joomla has a lot to offer you, it has an amazing flexibility which makes it a great choice for growing web presence. There are many UK hosting companies out there who offer Joomla hosting and this makes it difficult to determine the best out of them all, if you want to choose your Joomla hosing companies you have to consider the following:
Compatibility: One of the major thing is to consider the web hosting that will support your software. Joomla hosting is capable of running on servers that are equipped with PHP, MySQL and Apache. Its latest versions are also compatible with the previous version.
Installation: When looking for the best Joomla hosting, you need to consider how to install it on your account, installing Joomla is not a problem for some people but it can be challenging for others and if you are not conversant with technologies like file transfer protocol (FTP), MySQL and so on, then you might have a difficulty in setting up the platform. This challenge can be solved by getting a company that offers one click Joomla installation. This type of hosting company has utilities that automatically creates the database and install Joomla in few minutes. You only have to input your administrative details and you are done.
Database Support: Joomla requires database for it to run properly on the server, for this reason you should go for hosting that offer multiple databases, this will help you to be able to run Joomla and other applications that might need.
Multiple Domain: Joomla web hosting has many packages, some of them include multiple domains. Multiple domains will give you more space to support many needs.
Some of the Advantages
Very Easy to Install: Joomla is very easy to install, it takes just few minutes to download and install it. It's also very easy to maintain.
Open Source: Joomla is an open source CMS and it is freely available, its source code is available for free, and any user can use it to suit their needs.
Usability: Joomla can be used to build any type of website, it can be used to build small, simple websites as well as large and complex websites.
Plugins: Joomla has thousands of plugins that are available at the homepage, the plugins are free and easy to use.
Good Support: Joomla have many support tools and tutorials to help their users.
Easy Navigation Management: Joomla has a comprehensive navigation system which helps the users to manage their web pages effectively.
Some of the Disadvantages
The major disadvantage of Joomla is that some of its plugins work with a set of scripts.
Some users grumble that Joomla has difficulty in accommodating websites that have more than 50,000 visitors per day.
Some users also complained that Joomla websites run slower than websites that are built with other CMS systems.
Some users prefer WordPress because of its simplicity over Joomla.
Joomla makes websites to be heavy to load.
How to Install it?
To install Joomla on a web server, you need to follow the following steps:
First of all, download the Joomla installation package, the best thing is to download it from Joomla's official website – joomla.org.
After downloading the installation package, extract the files and folders and upload them to your web servers.
Create a MySQL database for your Joomla with full permissions for users, save the username and password you used because they will be used again in the installation process.
Configure your Joomla by filling the box appropriately; enter your site name in the box provided, add a short description of your website, input a valid email address that will be used for password recovery in case you lose your password and also for system recovery. Choose a unique username and password, make the password as strong as possible. Select next and configure your database and finalize your configuration on the next page.
Finally, click on the install button to start the installation, after few minutes you will be directed to the last page of the Joomla web installer. You will have remove the installation folder after the whole installation process, this is required for security purpose so that nobody will be able to reinstall your website.
That's all, you have successfully installed a fully functional Joomla website. You can now start adding contents to your Joomla website.
Conclusion
Although it is impossible to get a hosting that is 100% perfect but Joomla is pretty close to perfection. Joomla is the right choice for you if your website deals with multimedia presentation, it is generally good for all type of websites, just make sure that you familiarize yourself with all the technical aspects that Joomla hosting UK offers so that you will be able to fully maximize all the benefits of it, with just a little technical knowledge you should be able to successfully maintain a website.