Hostinger UK Web Hosting Review – How to Get a Free Domain?
Hostinger
3/5
Shared Hosting from $0.99 p/m
Data Centres:

UK

NL

US

BR

SG

ID

Uptime: 99.9%
Extras:


+

Free SSL


+

Powerful Control Panel


+

Easy Website Builder


+

30-day money-back guarantee


+

24/7/365 Support
When it comes to web hosting, the sheer number of choices on the market can make it hard to make a good choice. One of the most common things we look for in web hosting services is good value and cheap prices. Well, one site that promises good value for money is Hostinger. Do they live up to their promise?
Who are Hostinger?
As one of the cheapest hosting platforms around, Hostinger can get you access to a domain name for less than $1/month depending on the promotion that you get to use. They came to be in 2011, after evolving from their original 00webhost.com name. The Cyprus-based web hosting platform soon became quite a name in the industry, with a userbase of over 29-million users. Today, it's a site that has become known for high value and low costs – but, despite the money you save, these affordable prices do come at some kind of a cost.
Data Centres Overview
One thing that always matters when picking out a hosting system is where they are based in terms of their data centres. One of the most popular places to have data centres is in Europe and in the United States. Well, this hosting platform uses 1000mbps connections across Asia, Europe and the United States. This means that if you are based on any of these three continents then you should have no problem in picking up a good, strong level of performance.
For those who are looking to go international with their website, too, this should be very positive for you in the long-term. The quality of their data centres is very impressive, and it's a big reason why their general uptime and response levels are so high.
| Company: | Address: | Telephone: | Email: | Website: |
| --- | --- | --- | --- | --- |
| Hostinger | 61 Lordou Vironos Street, 6023 Larnaca, Cyprus | – | support@hostinger.com | hostinger.com |
Control Panels
In terms of the support that they provide you with, one thing that we noticed is that they have a good collection of panels to pick from. Hostinger has a cPanel system that is supremely easy to work with and is packed with simple click-through features. This makes analysing and managing your account so much easier, with a far more modern make-up on the cPanel system than many of their competitors.
Getting the information that you need is easy, with the cPanel platform that they offer very modern and easy to work with. Even if you are not a fan of cPanel normally, this offers more than enough functionality and usability to ensure you can make progress.
Check Hostinger's Web Hosting Gallery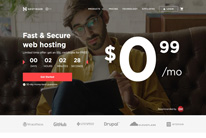 Homepage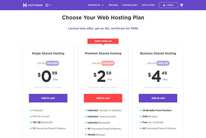 Compare Web Hosting Plans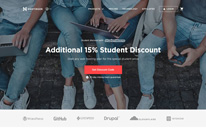 Student Discount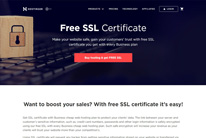 Free SSL Certificate
Services and Key Features
In terms of their service variety, Hostinger does a good job of offering a lot of variety. They have access to a full range of solid options for you to work with, including support for platforms such as WordPress, Joomla, Drupal, PrestaShop, and even OpenCart. This makes it easy for you to know that you are using a platform that can give you the features that you need and the variety you would expect.
With a highly impressive uptime of 99.91% too, and an average speed of 369ms, this is a fast and high-performance hosting platform that can handle more or less anything that you throw at it. Another thing that you might note about using this particular system is that it has a lot of easy options for things like shared hosting, cloud hosting, and VPS hosting.
Pricing is quite fair, and with access to a simple to use website builder you can easily put together a comprehensive website on the domain that you own. With up to 100GB bandwidth and 10GB of storage, too, it should be easy for you to fit everything that you need onto your platform.
You even get a free domain for the first year in many cases, which is a nice little promotional bonus that we're sure you will enjoy using. With a 30-day money back guarantee, also, they have enough hosting options to make sure you can spend your budget wisely.
Easy to use and quite modern in many ways, one thing that you should find is that you can easily get around the back-end without much issue. With easy login tracking, billing control, domain management and e-mail management, this looks to give you all the power that you need in one simple place.
Shared Hosting Servers Pricing
Plan Name
Domains
SSD Space
Bandwidth
Free Domain
Free SSL
Data Centres
Price
Link
Single
1
10GB
100GB
No
No
UK, NL, US, BR, SG, ID
$0.99
Get Discount
Premium
Unlimited
20GB
Unlimited
Yes
No
UK, NL, US, BR, SG, ID
$2.59
Business
Unlimited
30GB
Unlimited
Yes
Yes
UK, NL, US, BR, SG, ID
$4.49
Cloud Hosting Servers Pricing
Plan Name
CPU
RAM
SSD Space
BW
Free IP
Data Centres
Price
Link
Startup
2 Cores
3GB
40GB
Unlimited
Yes
UK, NL, US, BR, SG, ID
$9.99
Get Discount
Professional
4 Cores
6GB
80GB
Unlimited
Yes
UK, NL, US, BR, SG, ID
$18.99
Enterprise
6 Cores
12GB
160GB
Unlimited
Yes
UK, NL, US, BR, SG, ID
$35.99
VPS Hosting Servers Pricing
Plan Name
CPU
RAM
Storage
BW
Panel
Data Centres
Price
Link
VPS Server Plan 1
1 Core
1GB
20GB SSD
1TB
cPanel
UK, NL, US, BR, SG, ID
$3.95
Get Discount
VPS Server Plan 2
2 Cores
2GB
40GB SSD
2TB
cPanel
UK, NL, US, BR, SG, ID
$8.95
VPS Server Plan 5
8 Cores
6GB
120GB SSD
6TB
cPanel
UK, NL, US, BR, SG, ID
$23.95
Security and Safety
Overall, support is very good with a 24/7 live chat support system waiting for you. However, one thing that we do have to stress is that the lack of phone support can be a bit annoying.
With regards to their security standards, this does provide you with a daily backup option – but only on their most expensive plans. In terms of general security standards, they offer access to plenty of supplementary tools that can further protect your domain, alongside a high standard of general security and encryption. The security and safety standards are not something that you should need to worry about, in truth.
FAQs
How can I pay for my Hostinger account?
They offer quite unconventional payment plans, including the use of PayPal and even Bitcoin if you choose so. If you would like to make sure that your payments are going to go through, then you have a variety of payment processors to work with to ensure you can pay for your hosting.
Can I migrate my site over to Hostinger?
Yes, you can – no problem at all. You get one free migration when you sign up with Hostinger, so if you already own a site then you can easily send it across without any issues or stress.
Our Verdict
With plenty of value for money and a rather unique cPanel-style layout, you should have no problem at all in using this particular hosting site. While beginners might not find it safe enough at the early price points, the higher tier programs they offer should give everyone from newbies to veterans total peace of mind that they are now fully protected from anyone invading or damaging their website. For the price, you would do well to find something with better value for your money.
Were we able to help you? Then you will be interested in these reviews too: